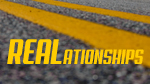 Click or Tap on the box above to watch the trailer for this series.
Click or Tap on a Point Title Below to Listen Now or Download mp3 File.
REALating Means We Encourage at Every Opportunity –Ephesians 4:29
"Speak Up" (06-09-13)
REALating Means We Confront to Protect from Hurt –Galatians 6:1a
[Unavailable Due to Technical Problems–we apologize for the inconvenience]
REALating Means We Reconcile by Releasing Our Agenda –Colossians 3:13
REALating Means We Work for the Growth of Others –Hebrews 10:24
Check out the More REALationships Point series by clicking here!