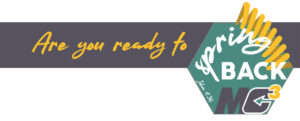 Are You Ready to Spring Back?
Watch this video from the mc3 Worship Experienc2e on Sunday, March 7, to hear about the vision for mc3 as we move into the future. Then, complete the short questionnaire below to share your involvement as we spring back!
Open your eyes! Look at the fields! They are ripe for harvest right now. 
-Jesus in John 4:35