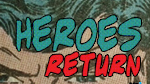 Click or Tap on the box above to watch the trailer for this series.
Click or Tap on a Point Title Below to Listen Now or Download mp3 File.
Samuel: Outspoken by a Life of Devotion –1 Samuel 3:19
---
Aquila and Priscilla: Fulfilled by a Life of the Extraordinary Ordinary –James 2:26
---
Joseph: Providing through a Life of Purpose –Genesis 50:20-21a
---
Peter: Transformed by a Life of Failure –Proverbs 24:16
---
Eli: Disgraced by a Life of Inaction –1 Corinthians 15:34
---
Ananias & Sapphira: Ruined by a Life of Hypocrisy –Proverbs 16:18
---
Pharaoh: Destroyed by a Life of Stubbornness –Exodus 7:13
---
Judas: Overcome by a Life of Greed –Luke 12:15
---
Check out the original Heroes Point series by clicking here!