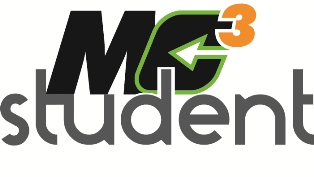 Student Ministry at mc3
This isn't your ordinary church "youth group"! mc3Student is for students in 6th-12th grade and has been designed from the ground up to continue to partner with families as they raise their students.
"From the time [students] hit middle school, they start moving away from home. They are not doing anything wrong; it's just the way they are made. They are becoming independent, and they begin redefining themselves through the eyes other people who are not in their immediate family. The older they get, the more important it is to have other voices in their lives saying the same things but in a different way. "
-R. Joiner, Think Orange [emphasis ours]
mc3Student will simply continue the 3C discipleship process, partnering with parents as an "other voice", in a way that is designed for the needs of 6th-12th grade students:
c1: Community – The primary program for mc3Student will be Student Pr'me, small groups designed to help students build community with one another and with an mc3Student staff member who will care for and mentor that student. Student Pr'me will meet following the 2nd, 3rd, and 4th Sundays of the month, so that students can participate with their families in their Pr'me Group following the 1st Sunday of the month. The 3rd week of the month may meet at a different location and/or time as these weeks will be set-up for special activities or c3Opportunities. The long-term goal is to offer a middle school and a high school Student Pr'me every night that Pr'me Groups are offered. Check here to see when and where Student Pr'me is currently meeting.
c2: Congregation – In mc3Student you will not see an alternative "student worship service". This is on purpose, based on our Core Value of Family. Rather than splitting families up by age when they arrive to worship, we want to encourage students (and children) to worship and serve

with their families

in the Worship Experienc²e.
c3: Caring – At mc3 we don't believe that students are the church of the future, we believe that they are the church of

today

. With that in mind, we encourage students to serve throughout mc3 now, whether as a part of the worship band, as a Steering Crew Leader in Ignition, on the media team, or with some other ministry team in mc3. Student Pr'me will also participate regularly in c3Opportunities as they arise.

One of the distinctives of mc3Student is the quarterly Parent Connect event, where we will meet with parents to explain what the next Point series will be and how our mc3Student Staff will craft it to fit the needs of middle and high school students. Then, parents will have an opportunity to speak directly with the "other voice" Student Pr'me staff member(s) that are caring for and mentoring their student. This allows for an exchange as parents and the mc3Student staff can partner together as they disciple their students. We're exited to announce that Parent Connect is returning as a tailgate party on Sunday, October 15, 2023 before and after the Worship Experienc2e! E-mail mc3Student@mc3Church.org for more details.