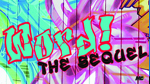 Click or Tap on the box above to watch the trailer for this series.
Click or Tap on a Point Title Below to Listen Now or Download mp3 File. Click on The Handout Title to View, Save, or Print the Handouts from Word! The Sequel (requires Adobe Reader)
---
---
---
Click or tap here to check out the original Word! Point series and the Word! 3: Kings and Prophets

 

Point series!