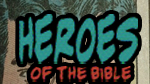 Click or Tap on the box above to watch the trailer for this series.
Click or Tap on a Point Title Below to Listen Now or Download mp3 File.
Abel: Don't Just Do It. Do It Right. –Hebrews 11:6a
---
Noah: Obedience Leads to Intimacy –Hebrews 11:7
---
Abraham: Trust Like Crazy –Proverbs 3:5-6
---
Moses: Plan Your Work, Work His Plan –Jeremiah 29:11
---
Gideon: The Power of People Can't Compare to the Power of God –Zechariah 4:6b
---
Samson: Your Connections Determine your Direction –Proverbs 13:20
---
"Super Collapse!" (08-18-13)
David: Submission Leads to Survival –Matthew 7:24
[Unavailable Due to Technical Problems–we apologize for the inconvenience.]
---
"Super Endurance!" (08-25-13)
Elijah: Don't Give Up When You're By the Brook –1 Kings 17:6-7
[This week we watched a video from Perry Noble at the Catalyst Conference. A portion of this video can be found by clicking here.]
---
Check out the Heroes Return Point series by clicking here!