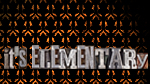 Click on the box above to watch the trailer for this series.
Click on a Play Button Below to Listen Now, OR Right Click on the Point Title and Choose "Save As" to Download mp3 Files. Click on The Handout Title to View, Save, or Print the Handouts from It's Elementary (requires Adobe Reader)
It's Important: Studying the Bible –1 Peter 2:2
Audio clip: Adobe Flash Player (version 9 or above) is required to play this audio clip. Download the latest version here. You also need to have JavaScript enabled in your browser.
It's Observation: Looking for Clues –Joshua 1:8a
Audio clip: Adobe Flash Player (version 9 or above) is required to play this audio clip. Download the latest version here. You also need to have JavaScript enabled in your browser.
It's Interpretation: Discovering Answers –2 Timothy 2:15
Audio clip: Adobe Flash Player (version 9 or above) is required to play this audio clip. Download the latest version here. You also need to have JavaScript enabled in your browser.
It's Application: Doing What It Says –James 1:22
Audio clip: Adobe Flash Player (version 9 or above) is required to play this audio clip. Download the latest version here. You also need to have JavaScript enabled in your browser.
 Click here to read A Biblical Baseball Game, a funny case of twisting the Bible to make it say whatever you want.